Bipolar 2 is more common than you may realize.
It is also known as bipolar II disorder. Bipolar II is when the individual experiences hypomanic (but not manic) episodes when "high", and during their "lows" also experience episodes of depression.
It is also sometimes known – a tad misleadingly in some cases – as "soft bipolar".
This is because the bipolar symptoms are generally perceived as less severe, especially where the mania or the "highs" associated with the disorder are concerned.
For example, there is no psychosis in Bipolar 2 hypomania.
However, bipolar ii disorder is still a troubling mood disorder and sufferers may be subject to classic bipolar symptoms such as serious and recurring depressions, as well as subtler bipolar symptoms such as confusing periods of irritability, impulsiveness and agitation.
On the other hand, the milder "highs" can be enjoyable and energizing and are less likely to lead to the terrible repercussions of full-blown mania.
It may be variously referred to as Bipolar 2, Bipolar II, or Bipolar Type 2 Disorder.
Importantly, although there may less dangerous mania, bipolar treatments such as medication and "talk therapy" are still required.
Reminder
Bipolar Type 2 is more common than you may realize.
Many people read about Bipolar 2 in the mass media and self-diagnose, when really they should take a bipolar disorder test with an experienced psychiatrist. Only then will they understand if they truly experience bipolar symptoms and what the appropriate bipolar treatments may be.
What is the difference between Bipolar 1 and Bipolar Type 2? Let's look at some definitions:
Bipolar 1: Where the individual has experienced episode(s) of mania, with or without a history of depressive disorders.
Bipolar 2: Where the individual has experienced episode(s) of both hypomania and depression (and has never experienced an episode of mania or had psychotic episodes).
This is why Bipolar II disorder is sometimes known as "soft" bipolar. Depression is present, but instead of mania, the person suffers from hypomania – a milder form of mania.
So one way of understanding the differences between hard and soft bipolar, or Type I Bipolar and Type II Bipolar, is to understand the differences between MANIA and HYPOMANIA.
"Mania" is a high mood that is of distinct severity and where the individual is often psychotic in the sense of having delusions and/or hallucinations.
"Hypomania" comes from the Greek and means "less than mania". It describes a high that is less severe than a manic episode and without any psychotic features such as misinterpretation of events.
Bipolar Disorder I is more severe, and the longer and more serious "highs", which may involve psychosis, are far more likely to lead to hospitalization.
Bipolar Type I is quite different from the much shorter
and less dramatic highs in Bipolar Type II disorder. Bipolar 2 does NOT
involve any psychotic experiences.
Discover more details on Bipolar II Disorder
Another interesting difference is that while women and men develop Bipolar I Disorder at equal rates, rates for Bipolar Disorder Type II are higher for women. Also, men and women experience Bipolar II in different ways.
When men are effected by it they tend to have roughly equal numbers of hypomanic and depressive episodes.
However for women, depression tends to dominate.
See this University of Maryland article for a good overview of bipolar disorder types.
The milder nature of hypomania makes it a curse as well as a blessing.
Of course it is a great advantage to have the boosted energy, optimism and creativity without the risk of extreme self-destruction and impaired judgment that occurs in full-blown mania.
On the downside, Bipolar Disorder Type II can be much harder to diagnose.
This is a problem as the disorder may worsen overtime, may still lead to negative behaviors and consequences, and carries an equally high risk of suicide.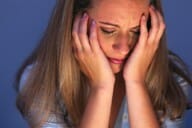 Bipolar Type 2 may be up to 3-4 times more common than Bipolar 1, and for reasons not yet understood, it seems to be becoming more prevalent.
At least one expert as gone so far as to suggest hypomania can be an asset.
Psychologist John Gartner believes part of the reason America is so rich an powerful is the presence of so many hypomanic individuals:
"Hypomania, a genetically based form of mild
mania, endows many of us with energy, creativity, enthusiasm, and a propensity for taking risks. America has an extraordinarily high number of hypomanics—grandiose types who leap on every wacky idea that occurs to them, utterly convinced it will change the world. Market bubbles and ill-considered messianic crusades can be the downside. But there is an enormous upside as well, in spectacular entrepreneurial zeal, drive for innovation and material success. Americans may have a lot of crazy ideas, but some of them prove to be brilliant inventions." – John Gartner, Ph.D, The Hypomanic Edge
KEY TAKEAWAYS?
1. BIPOLAR TYPE 2 HAS ITS OWN DISTINCT BIPOLAR SYMPTOMS.
2. YOU NEED A BIPOLAR DISORDER TEST FROM A COMPETENT PROFESSIONAL TO DIAGNOSE BIPOLAR II DISORDER. DO NOT SELF DIAGNOSE.
3. BIPOLAR TREATMENTS ARE SLIGHTLY DIFFERENT FOR BIPOLAR 2 VS BIPOLAR 1.