A proven system I used to better manage my bipolar disorder – including details on how they work and action steps. Bonus: I tell you tips to get the most out of your bipolar online counseling session.
Do you ever feel stuck in the depths of some horrid mood swings? It's like being strapped down to a roller coaster train – you can't get off the ride and you have no control over the manic twists and turns.
On other days, you feel like extra baggage just weighs you down into bipolar depression.
If you have bipolar disorder, you know these symptoms well.
Need to talk? Trust that feeling. Bipolar counseling is an essential part of treatment.
Talk therapy goes beyond just managing your symptoms. Talk therapy is important because:
You work through current problems you're dealing with

You're not judged

You learn a lot more about yourself
Study after study shows that the most effective treatment for bipolar disorder is a combination of bipolar medications and talk therapy.
According to BMC Psychiatry, a study showed that "the reality for people with a diagnosis of schizophrenia or bipolar disorder is that managing their illness and living well requires balancing side effects and symptoms… While many service users reported good experiences of clinical support, there was a perceived need for more extensive provision in this respect, including greater access to talking therapies."
One really interesting innovation to talk therapy is bipolar online counseling.
Action Step: When you feel the need to talk to a counselor or therapist, don't run away from or dismiss this feeling. Instead, jot down on a piece of paper 3 things on your mind that are bothering you. That way, you know exactly why you need to talk to a professional.
Why Online Counseling?
Bipolar counseling online provides you four big benefits:
Benefit #1:

Time and place. No matter where you are or what the time it is, with online therapy/counseling there are ALWAYS dozens of recognized professionals available to help you.
Benefit #2:

Online experts have up-to-date and reliable information on bipolar disorder – and any other conceivable issue you need to talk about.
Benefit #3:

Online counseling for bipolar or depression gives you access to live professional counselors worldwide.
Benefit #4:

Get access to therapists from the privacy, comfort, security & convenience of your own home (or any location).
Reputable online counseling services such as PrestoExperts, Breakthrough.com and Just Answer are used by thousands of consumers daily and I can highly recommend them all.
My favorite is PrestoExperts (Keep reading to learn how to use this service) because they have so many therapists with specific expertise in Bipolar Disorder and will work with you online, by telephone or via email and offer the best value for your money, as well as affordable and transparent pricing.
Regardless of whether you need an urgent, one time consultation for an issue of immediate concern, or would like to establish an on-going relationship of counseling, support is right at your fingertips.
Imagine total flexibility from a service which is all about YOU.
YOU control the level of anonymity and disclosure!
Access a worldwide resource for the very best fit and value for money. No travel and no fitting in with someone else's schedule.
So, instead of limiting yourself to the counselors in your immediate area, you can connect to top counselors all over the world. Traveling to your local counselor's clinic can be both time-consuming and expensive.
Action Steps: There are two methods to match you with the best bipolar counselor on LivePerson.
Method #1: Post your needs and PrestoExperts will match you with the right experts.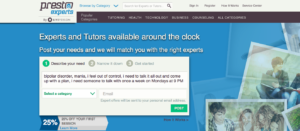 Describe what your needs are into the white box shown (the picture above is for example purposes only: I entered in a list of needs that may be specific for me).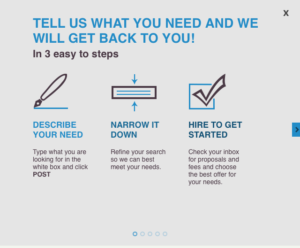 After you type in your needs in the white box, click POST. After some tweaking to narrow down your matches, you'll receive proposals & fees in your inbox.
Method #2: Browse and choose your own online bipolar counselor.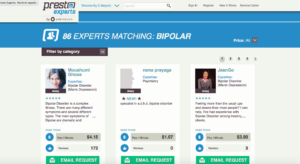 (Once again, pictures are for demonstration purposes only.)
In the search bar, type in keywords such as "bipolar," "bipolar counselor," "bipolar therapist," etc. After you press enter, you'll be shown a number of matches.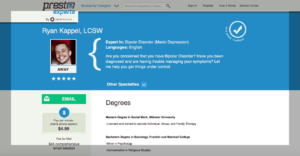 Click on any match and you'll be shown a detailed description of their expertise, degrees, rate, services, & reviews from former clients. If you like your match, click the green EMAIL button send him or her a message.
Bonus Tips For Bipolar Counseling Online:
There are 3 options when you sign up for online counseling.
Option #1: Live Chat
Most reputable services will provide the first few minutes of Live Chats 100% FREE. Payment will only begin if you choose this particular expert for the remainder of your bipolar counseling sessions. Make the most of Live Chat by using the beginning of the conversation to air all your concerns, ask your questions, negotiate a fee that is in line with your budget and to make sure this is truly the right expert for you.
Option #2: Email
Use this option if you find that writing helps you with organization and focus. You will get max value for money if you don't waste time getting to the point!
Sometimes our illness makes it hard to organize our thoughts and can result in a rambling or discursive speaking style which chews up therapy time. Having to write makes it easier to structure and prioritize and there is no charge for the time spent composing your email to your therapist.
You can go at your own pace and get counseling from someone who has also had time to reflect on your content.
Privacy and security are paramount and you can be confident of being protected. ALWAYS ask about what privacy protection and security mechanisms are in place.
How exactly does it all work?
With a professional provider, you are completely protected. No charges are incurred until you clarify initial questions and reach a clear and mutual agreement over fees. If you opt for an email session, payment occurs when the session completes.
Option #3: Telephone
Some people are talkers – If you're one of them, you can set up a telephone counseling session with your online therapist.
It's Time For A Positive Change
Every day I get requests from individuals – The problem, however, is that I am NOT a medical or mental health professional and therefore not qualified to deliver therapy services.
The most positive changes occur when you express yourself in a peer group support system. This includes having a professional to talk with.
Please do not take chances with your health by attempting to obtain therapy from an unqualified person – use an established bipolar counseling provider1 for a properly trained and accredited expert therapist.
Action Step: Comment below. What is your experience with talk therapy? (In-person or online).
References: